UNFPA Indicators for GBV Risk Mitigation in Cash Assistance with Supporting Guidance
This guide offers proxy indicators for assessing GBV risks to women in cash interventions. Cash actors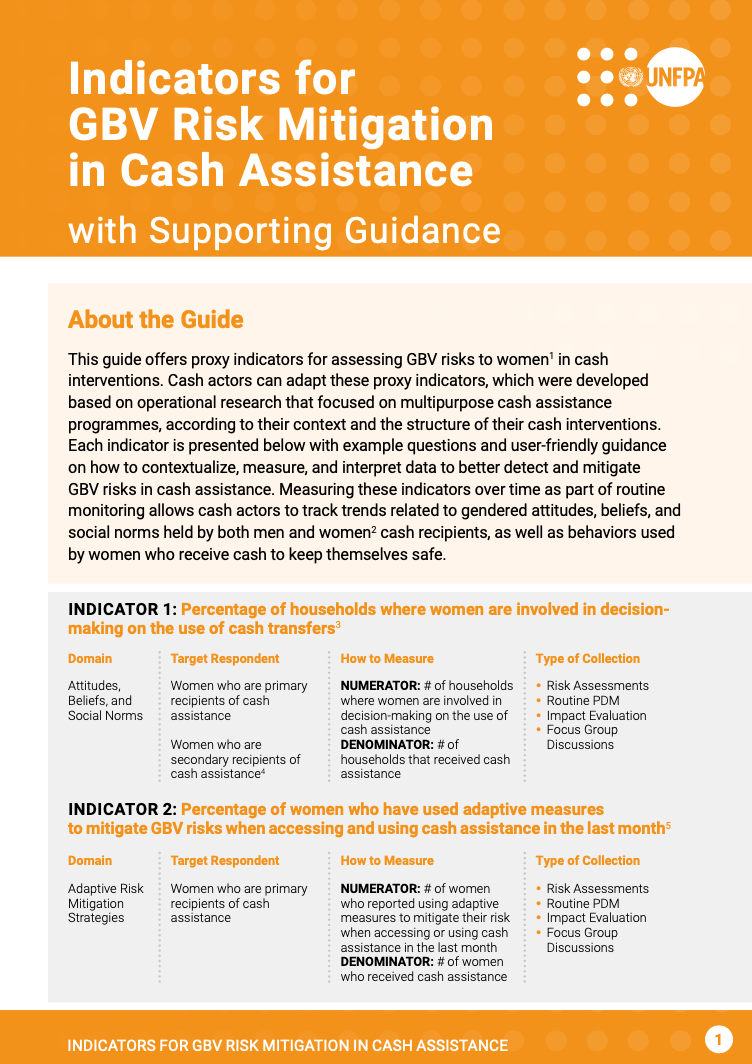 can adapt these proxy indicators, which were developed based on operational research that focused on multipurpose cash assistance programmes, according to their context and the structure of their cash interventions. Each indicator is presented below with example questions and user-friendly guidance on how to contextualize, measure, and interpret data to better detect and mitigate GBV risks in cash assistance. Measuring these indicators over time as part of routine monitoring allows cash actors to track trends related to gendered attitudes, beliefs, and social norms held by both men and women cash recipients, as well as behaviors used by women who receive cash to keep themselves safe.
These indicators were developed through a collaboration between UNFPA and the Global Women's Institute at George Washington University (GWI) that was completed in 2023 to examine GBV risk in relation to cash assistance. The collaboration sought to develop select indicators that could be included in the assessment, design, monitoring and/or evaluation phases of cash interventions for use by non-GBV specialists such as cash, M&E, or sectoral/programme actors. This work builds on ongoing GBV risk mitigation work by UNFPA, the GBV AoR, and across humanitarian agencies.
Click here to access the accompanying case study on the field research in Iraq and Colombia that was used to develop the indicators.  
Download the Indicators Guide by clicking the button below.